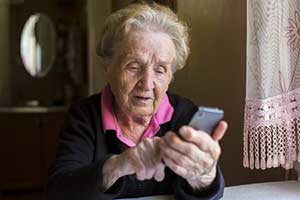 In today's fast-moving technological world, it can be difficult to keep up with the latest gadgets—after all, a phone's a phone right? It seems that the minute you buy a fancy new phone, they're getting a newer model ready to go to market before you've even learned the ins and outs of the last one!
For anyone who wants a reliable, easy to use phone with some advanced features but isn't interested in having the latest and greatest, deciding on a phone can be quite the conundrum. For seniors, who perhaps don't care too much about staying connected to Twitter 24/7 via their cell phone, there are a number of more streamlined cell phones that emphasize usability more than cramming as many exciting new features into the phone as possible.
Smartphones should be selected with you and your usage in mind. There are thousands of features available on the market, but there's only one out there that has the perfect functionality, size, and screen for what you're looking for from your phone. Instead of fussing around disabling apps we never use, and constantly clicking away notifications, why not have a phone that still has phone calls as its primary function.
Luckily, some savvy phone designers created phones that are perfect for the elderly community. Features including large buttons and easy-to-access emergency and speed dialing take priority over impracticality. Here is a guide to 2017's best cell phones for seniors:
Blu Joy
This phone looks bright and modern, but offers features that seniors will find very useful. The display is large and easy to see, the keypad boasts huge buttons that can be pressed and dialed easily, and it is also aesthetically pleasing due to the leather-patterned back cover. Not only this, but the Blu Joy includes an SOS button. When the user clicks this button, they can access emergency services including police, medical, and fire support easily and immediately.
Snapfon
This device has a very practical design that offers many features that your aging relative will love. For example, it has plastic casing which is incredibly resilient and durable. Not only this, but it has a rubber, textured keypad. Smartphones often have flat, slippy keypads that are difficult to press and you often find yourself tapping the number directly beside the one you want. With this phone, you'll definitely dial the right number.
The Snapfon, like the Blu Joy, boasts an SOS button with an additional benefit. For a monthly fee, the service provider will fully customize the SOS button for the user. When the user presses it during an emergency, they are connected to a response agent who then passes on the call to an emergency service straight away. This means that for a small extra amount every month, you and your aging relative will have maximum reassurance that unforeseen circumstances will be addressed as soon as the SOS button is used.
Jitterbug Flip
Functionality and usability are great, but sometimes you just want to get your loved one something special that still addresses their cell phone needs. Introducing the Jitterbug Flip, a flip phone that has all the convenient design features that your relative requires. This is a practical phone that still manages to look great, partially due to the sophisticated flip mechanism.
The dial buttons are big, the numbers as they appear on the screen are easily read, and it also includes a powerful speaker that ensures your aging relative will never have difficulty hearing what's being said on the other end of the phone. All in all, a great all-rounder.
Taking Care of Your Aging Relative
Now that the senior in your life is decked out with the best cell phone, it's a good idea to think of other ways you can take care of your aging relative. If you or your family member are approaching a time in life when in-home care is a consideration, there are some questions you need to ask before selecting a reputable care provider:
What services do in-home care providers offer?
How comprehensive are these services?
What qualifications do the carers have?
Does this company or carer possess the appropriate licensing and insurance?
As you can see, there is lots to think about before making the decision to hire a professional care worker. Seniors can experience many difficulties around the home, including health and financial issues and isolation. Depending on the specific needs of your relative, even basic tasks can be difficult to accomplish. Personal home care can enable independence for the elderly by empowering them to live life to the fullest. This is because when you have someone taking care of errands, housework, and arranging your medication for you, you can focus on the important things: family, fun, and lasting memories.