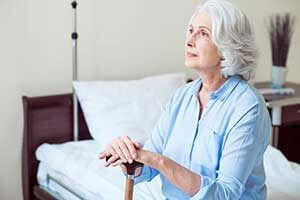 As a person ages, mostly things stay the same: one keeps their interests as they get older, but sometimes physical deterioration associated with aging can limit a senior's abilities to enjoy their favorite hobbies and spend quality time with their families and friends. With the assistance of a personal home care aide, a trained professional will provide elder care, which can include activities such as transportation, light housekeeping, help with tasks, hygiene, and dressing, among other needs.
Oftentimes, an aging person just needs a little boost—from companionship to key assistance with certain tasks—home care can be a quality option for those seniors who value an independent experience as they age.
Benefits of Home Care
One of the ways people gauge personal happiness is by the level of independence they feel they have in their home. Whether an individual be an aging senior, a special-needs person, or someone who is in recovery from injury or a surgery, home care aids can improve one's quality of life by improving access, whether it be a medical needs situation or for elder care.
Home care may be completed by one or several different trained professionals who work as a team to provide varying levels of service, depending on want and need, from partial to round-the-clock care. Their assistance can involve a wide variety of tasks, including completing personal hygiene, providing medicine, doing household chores, and providing social services, like company or transportation. Whether it be medical or elder care, home care aides work with individuals and their families to manage the multiple tasks associated with daily life or running a home.
Professional home care aides believe in treating those with respect and care, and understand how independence and companionship are important to individuals who have limited access to many resources. Having the peace of mind that oneself or a loved one can, within reason, have access to care can be a game changer for those living with changes in ability during the aging process.
How Will Home Care Facilitate Independence?
As one ages, certain changes in the body lead to the deterioration of muscles and the weakening of bone mass. Sometimes, during the course of our lives, we find ourselves injured in a way that limits our abilities to drive or walk. As one who has ever had limited mobility can attest, many people take getting around for granted. The capability to carry a heavy garbage can to the curb or whisk an egg into an omelet can make the difference between a realized goal and another disappointment—having to give sometime up because of lack of access.
Whether the situation be home care or elder care, those with limited mobility or other concerns can use the assistance of a professional—a home care aide who is happy to spend time giving care and assistance. Other times, as we or those we love get older, changes in health or mobility can make transportation difficult, limiting one's access to basic necessities and restraining one's opportunities for social interaction. And with families spread over wide geographic areas, sometimes seniors are left in isolated circumstances, with distance between their families and friends.
In a situation where one can feel isolated and helpless, a home care aid can empower a person recovering from medical treatment or providing elder care to an aging individual. From bathing and dressing, to driving a client to the store, then packing their groceries, and by helping them make a meal, home care aides can cover the full gamut of possible requests one may have when it comes to feeling comfortable in their home.
Remember…
Most people don't change as they age—just their level of ability. While family and friends may be far away, and a neighbor may be able to help meet a senior's needs for a few moments, hobbies and interests are still important, and clients still have goals.
By working with our team of elder care professionals who work on building quality relationships with clients in their place of residence, if the client is seriously-ill or a hospice patient, in many cases, nursing home or hospice care such as round-the-clock medical attention can provide better than hospital-level care in the home.
Whether the family be near or far, or whether the client's needs be physical or for companionship, our professional team of home care aides work to give patient and caring assistance to a wide variety of people, helping with a variety of tasks inside and outside the home.