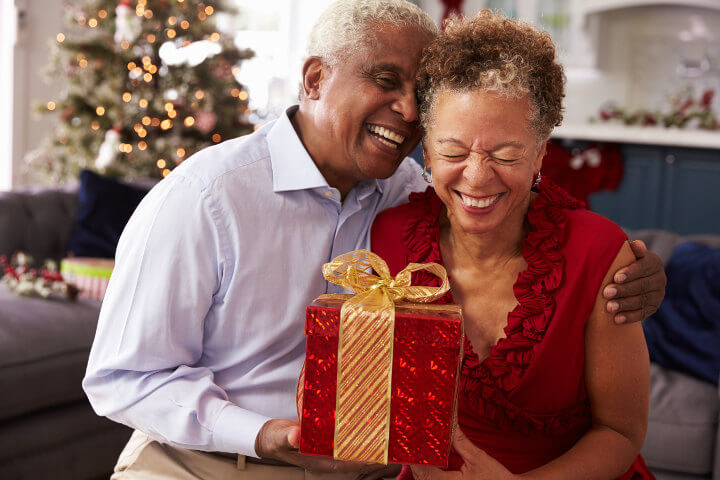 By keeping senior family members in mind and encouraging them to join in with all your senior-friendly holiday activities, you will be creating fun and exciting opportunities for all family members to share time together during the holidays. Remember, quality time during the holidays doesn't have to be expensive or formal–it just takes a little planning and thought–and before you know it, family members from the youngest to the oldest will be eagerly joining in.
Useful Ideas for Holiday Cheer
As each holiday season arrives, you probably become aware of just how precious your time with senior loved ones can be. Unfortunately, the holidays also bring a flurry of activities which may cause you to put that important senior quality time on the back burner when, in fact, it should be a holiday priority.
With a little planning and cooperation from family members, you can find new ways to fit senior loved ones into that busiest time of the year and also create new ways to enjoy the holidays. Read below for some ideas on how to create new memories with your loved ones as you celebrate the holidays.
Create Your Own Holiday Tradition
There is always something fun or joyful to do as a family during the holiday season. Make sure it is something the entire family will enjoy from the youngest child to the grandparents. Viewing Christmas lights at a nearby theme park can be a fun family outing. Consider planning an outing to take the whole family caroling, or visiting people in the hospital or a nursing home. Brainstorm new ideas and try to be creative when building a new tradition. You are sure to be pleasantly surprised at how much your family enjoys the new holiday activity and looks forward to it next year.
Have Everyone Join in the Holiday Prep
There are all kinds of preparations going on during the holidays, from trimming the tree and baking cookies, to preparing holiday meals. Make sure you include senior members in all the preparations, especially if your loved one tends to shut others out. Break tasks down into easy to do smaller steps that young ones and seniors alike can accomplish. You might even want elder members of the family to direct and organize all those complicated preparations to make sure all is going smoothly. A senior could even teach a young one a simple task. Pairing young and old also creates memories, starts conversation, and helps solidify relationships.
Holidays Are Perfect for Memories
Be sure you save some time for the memories of Christmas past and memories of other family times. This is the perfect time to pull out old keepsakes, photo albums, and home movies. Seniors will love reminiscing about times gone by, and young ones love hearing about those sometimes embarrassing stories about you when you were young. Play some old familiar holiday music to bring back the memories and relax. This should be a no pressure activity, especially for seniors who are losing their memories.
Holiday Time is Quality Time
Encourage your senior loved ones to be active with younger family members. The holidays offer a myriad of ways to have fun together, such as:
Taking the grandkids shopping for gifts for family members;
Strolling through the neighborhood to look at the lights;
Taking in a special holiday performance, like "A Christmas Carol" or "The Nutcracker";
Volunteering at a homeless shelter or food pantry;
Participating in a holiday parade for pets or a walk-a-thon for a worthy cause;
Viewing a living nativity scene with live actors and real animals.
As you brainstorm holiday family activities, make sure you keep your senior loved ones top of mind. Keep a close eye on them and don't tire them out with too many activities. Try to keep a good balance between activity and rest. Remember, all the effort you are putting into creating a new tradition could be creating the perfect holiday memory for tomorrow.
Contact Caring Hands Matter for More Information
When you get in touch with us, we will assign you your own personal caregiver who will visit you at your home for a personal assessment of you and your family's needs and concerns. Your caregiver can create a schedule personally tailored for the services you and your family particularly need.
Would you be interested in learning more about how we can contribute with our senior care services while they remain in the comfort of their home? Call us or send us an online message today and let's get started!