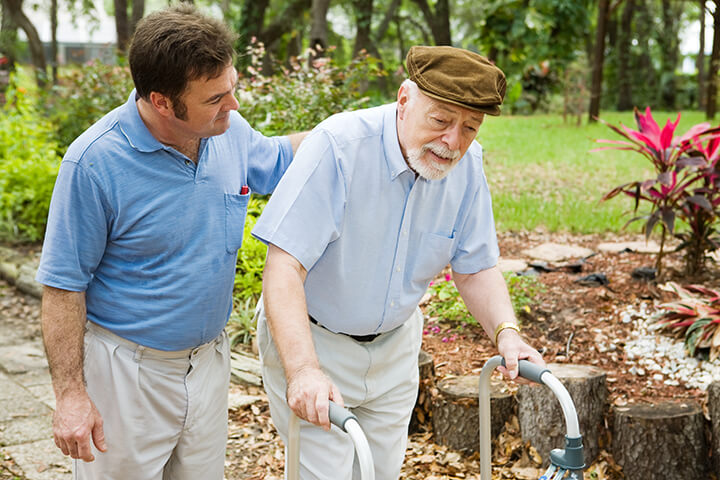 Receiving a diagnosis of Alzheimer's disease can be intimidating, with thoughts flying with high abandon on how to both deal with the disease and maintain a normal, healthy lifestyle. One specific type of injury that is very common with older people, especially with those with dementia and Alzheimer's, is slipping and falling. As bones become more brittle with age, what was once a simple bruise to be laughed off and ignored could turn into an injury that is potentially life threatening.
There are many aggravating factors that could turn a normally-safe environment into one difficult to navigate for one who suffers from Alzheimer's. Identifying and taking steps to avoid them are key to a safe and happy place to live in.
Cognitive Changes
Alzheimer's is a disease of the brain and can affect virtually every part of the cognitive process. Memory problems are some of the most common symptoms of the disease, and can have a direct impact on slip and fall incidents. In mild cases, this can manifest as forgetting where furniture is placed in the home, increasing the risk of bumping into unexpected obstacles.
In more extreme cases, memory problems can extend so far that the knowledge of how to actually walk altogether is lost. The subconscious familiarity that makes walking so easy to do virtually without thinking about it can get lost in the background noise of Alzheimer's disease and dementia. This is known as gait apraxia, and not only does this preclude the patient from navigating the home successfully on its own, the aggravation and frustration that can easily come with a reduction in capability can prompt them to move about in an unsafe fashion.
Confusion stemming from memory loss can also lead to an inability to identify potential hazards to be avoided. An Alzheimer's in-home care patient may forget that water can make a floor slick, or that stepping up is necessary to avoid tripping on steps or curbs. In more advanced cases, the ability to understand speech leaves entirely, making it difficult to instruct them on how to identify and navigate normal obstacles. For more information, please visit our blog on cognitive exercises to prevent dementia.
Medications
Many Alzheimer's medications, most notably the anti-psychotic variety that directly impact the changes in memory and cognitive thinking, have side effects that can lead to a much higher risk of slip and fall. The most common aggravating side effect for anti-psychotics is a rigidity and stiffness in the muscles and bones. Not only does this make it difficult to actually rise and begin to travel, it will also reduce coordination to a level where navigating around obstacles is problematic on their own.
Other side effects associated with Alzheimer's medication include dizziness and and a lightheaded feeling, especially when first standing. This can be an extreme problem if the feelings have not dissipated before walking begins and may require professional assistance, such as home care in Fairfax, VA with Caring Hands Matter.
How To Combat Slip and Fall
There are plenty of things the average person can do to guard against slippage, without incurring too much expense. The first category deals with environmental factors, or things that are in the home but do not deal with the actual physicality of the patient. For example, pets can easily get under foot and cause a fall very easily, so proper training is vital. Throw rugs are another prime culprit, with the edges easy to trip over even for someone without dementia. Replacing throw rugs, or using double-sided tape to secure edges, are excellent steps you can take to minimize risk. Some, more "busy" fabric patterns can confuse patients, making solid colors preferable. Even furniture colored the same as the carpet can cause confusion, so a change in color schemes may be needed. Exposed cords are also dangerous, as well as accumulated clutter, both easily addressed with a little time and effort.
A wide variety of products and devices are available today that can turn virtually any home into a handicap-friendly environment, without breaking the bank. As the shower is one of the most common places for slipping, be sure to install hand rails or even a stool for the patient to sit on. Anti-slip mats are an excellent way to avoid slipping due to wet conditions, so these should definitely make your shopping list. Installing hand rails near the toilet can also allow a patient to retain their dignity by being able to perform basic functions without help.
Stairs and Kitchens
The stairs are another prime area for serious injury to an Alzheimer's patient, and require the same consideration as the bathroom. For more ambulatory patients, simple handrails spanning the entire length of each staircase should do the trick nicely. For those with more advanced and progressing Alzheimer's, a motorized chair lift may be the best option.
The kitchen can also be a place of hazard, especially if needed plates and utensils are out of easy reach. A stool or chair is unsafe for virtually anyone to stand on to reach items placed in high cupboards or cabinets, much more so for someone who has the physical and mental limitations of dementia. Redo the layout of your stored utensils and dishes, making sure that anything the patient needs is within easy reach.
Contact Caring Hands Matter Today
If you, or someone you love, have a diagnosis of Alzheimer's or dementia, and need assistance from a professional on how to reduce the possibility of fall and injury in your personal environment, we urge you to give Caring Hands Matter a call or send us a message online today. Our Dementia care services can increase the saftey of your loved one who is struggling with Alzheimer's/Dementia.