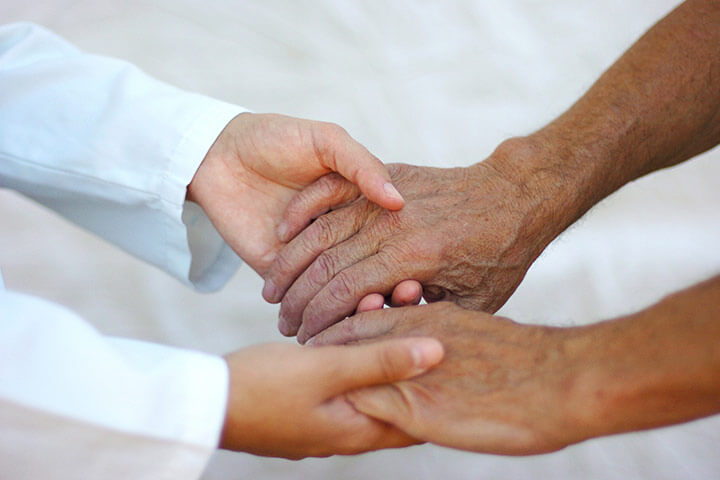 One of the biggest questions in home healthcare is "what exactly does a home health aide worker do?" While they do not have all of the job functions that a nurse might have, they still administer quite a variety of types of care for a loved one in the privacy of his or her own home or room. Understanding the duties of a home health aide is the first step in determining if this is the type of professional a loved one needs
What is a Home Health Aide?
A Home Health Aide offers a form of healthcare that involves an individual that aides people with chronic illness, disabilities, and cognitive impairment. They are well-known for assisting individuals with their activities of daily living (ADLs), but can also provide warm companionship and support for a loved one or family member.
According to the Bureau of Labor Statistics, 913,500 people in the United States were employed as home health aides in 2014, with a median income of $21,920/year (roughly $10.54 an hour). Employment is projected to grow by 38% from now until 2024, which is exponential compared to other healthcare occupations. As baby boomers and the population of the elderly grows, the need for home health aides is swiftly on the rise.
Unlike other types of home healthcare, home aides are relatively inexpensive. They may even be covered by Medicare and other forms of financial aid. Since home health aides assist with ADLs, they are an essential unit for the care and quality of a loved one's life.
Activities of Daily Living
The most important duty of a home health aide is to assist an individual with his or her daily tasks. Otherwise known as "ADLs," these actions consist of every task that a person needs to perform on a daily basis. Performing these tasks allow individuals to maintain a certain quality of life.
The following is a short list of how a home health worker can help a loved one.
Medication management
Personal hygiene
Mobility
Exercise
Bathing
Dressing
Toileting
Housekeeping
Eating and meal prep
Social activities
The idea of having someone to assist with these activities is to make a loved one feel safe and collected within a comfortable environment. Since home health aides work in a familiar space to a patient, their home, it is easier for a person to adjust to the actions required to perform the tasks of daily living.
Duties of a Home Health Aide
Asking someone to assist with ADLs is simple, but how a home health aide approaches these tasks can be tremendously helpful. The level of care can be adjusted to meet the needs of a loved one, and the following are some areas in which an aide can support him or her, while also adding to their quality of life:
Ambulation/Mobility: No matter how long a person has lived in their residence, there comes a time when walking around becomes a difficult task. An aide can offer assistance in regular ambulation and mobility, allowing a senior to maneuver the spaces they need in an environment that offers them comfort.
Assistance from an aide involves everything from transferring to a bed or couch, to walking, stretching, and daily exercise. Depending on the needs of an individual, aides can also assist a person with getting in and out of a tub or shower.
Daily Hygiene: Since many seniors can be confined to wheelchairs or beds, pressure ulcers (otherwise known as "bedsores") can develop and cause great discomfort. Aides can maintain a standard of hygiene that can reduce the risk of skin infection and other afflictions related to poor hygiene. Encouraging movement when possible will also be a vital role of some home health aides. If the loved one needs a haircut, a home health aide can arrange for one—or make sure that this type of task gets done. Although an aide can help an individual ambulate during the bathing process, they still generally allow a person to accomplish as much as they can on their own accord.
Mealtime: Meal preparation is perhaps one of the most difficult aspects of having a loved one that needs home care. A home health aide can not only assist with shopping for ingredients, but he or she can also actually assist with prepping the meal. The home health aid can also help a loved one eat their meal if necessary as well.Many seniors suffer bone loss, and it is important for them to receive the proper nutrition. Home health aides can assure family and friends that their loved one is well fed, with a diet that meets their nutritional needs.
Continence: A very private and sensitive matter, this is something that people heavily rely on home health aides to assist with. Making sure a loved one is using the bathroom properly is perhaps one of the most challenging parts of aging. An aide can assist an individual to and from the bathroom, as well as changing adult diapers when necessary. The idea is that an aide offers a level of continual companionship (separate from the family) that may make this task slightly more dignified for an individual.
Daily Dressing: As long as a person is safe, an aide can allow them to dress themselves to their fullest ability. It is critical that a loved one feel responsible for their own ADLs (regardless of how much they actually are).
The job of a home health aide is to "assist," not "do." If an individual is capable of putting on their own pants, an aide need only sit back and watch for stability. Up until a certain point, most people only need help with buttons and tying shoes. Dignity should always be considered in every performance of an ADL.
Family Assistance
One of the most overlooked—yet important–tasks of a home health aide is the assistance they can offer to family members of a senior or loved one. Companionship cannot be bought, but it is often an outcome of this difficult position that almost a million people in the U.S. hold.
From housekeeping to coaching on ADLs, a home health aide can assist family members in caring for their loved one in need. Aides can also make sure that an individual attends all of their doctor's appointments, can help run errands, and provide an overall secondary level of support that gives family members a slight respite from the task of caring for their loved one in need.
The level of care a home health aide provides depends on what an individual needs on a daily basis, as well as how available his or her family is to help. The job of this caregiver is to allow the family space to have their own lives, while also helping to alleviate their guilt that their loved one is not being cared for.
If, however, there comes a time when medical assistance becomes crucial to a loved one's ADLs, a home health aide may not be able to provide the level of care needed. Assessing and understanding the condition of a loved one will help family members make an informed decision on the best level of care.
Scheduling
Depending on the loved one's needs, the hours a home health aide works can vary greatly. In some cases, a family member may need a companion overnight. In other instances, it may be that they need someone to help them ambulate. It is important to communicate the needs of the family member in need to any potential aide, and they should inform family members what to expect regarding care and services.
Although some aides can stay overnight, most home health workers perform their duties during the day, and often visit several patients over an 8 hour period. Communicating a loved one's needs will help family members find the proper individual to help care for their specific challenges. If someone is needed to work more than 8 hours, it is wise to mention this immediately, as this can be a challenge for some aides.
Overall, it is crucial to understand the role a home health aide plays in caring for a loved one. Although they offer some medical assistance, they are not trained doctors or nurses. They can perform simple procedures (like maintaining a catheter), but they cannot give IV fluids (like that of a nurse).
The main idea behind home health aide workers is simple companionship. The benefit is that family members have another human being to make sure a loved one never trips, makes it to their appointments on time, and perhaps cooks a fun meal. These activities are essential to their quality of life. When family and friends cannot be there for someone, it is comforting to know that there is a home health aide worker by the loved one's side, making sure his or her needs are met. Contact Caring Hands Matter for more information.