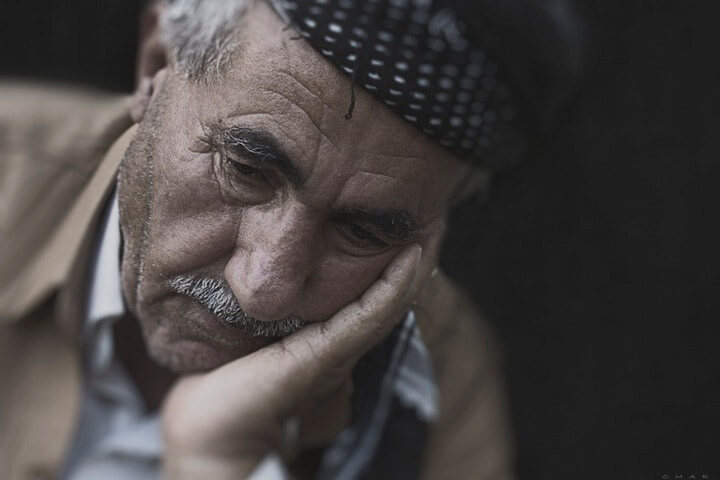 It can be extremely difficult to manage the care of a loved one who has been diagnosed with dementia. Fulfilling the roles as both a concerned family member and attentive caregiver in a support system can be challenging in numerous ways. Many of these challenges due to some of the ways that dementia manifests for individuals who have recently been diagnosed can be especially problematic for family members.
It can be hard, for example, to manage a loved one with Dementia who is displaying angry and/or aggressive behavior. These types of behaviors can make life more difficult for everyone at home. It can be quite disheartening when family members are dedicating resources and time to help an elderly loved one with dementia, only to have him or her respond negatively, angrily, or even physically aggressive.
Caring For Angry and Aggressive Seniors With Dementia
Angry and aggressive behaviors are some of the most common aspects of a dementia diagnoses. In fact, according to research, more than one third of individuals who have been diagnosed with dementia may have behaved aggressively towards support staff, friends, and family members. This is particularly common in situations where the dementia is moderate or severe. It can be difficult to cope with a loved one repeatedly acting out, especially if family members are doing everything in their power to help the individual adjust to being cared for. How caregivers respond to these situations is absolutely essential for protecting their own emotional ability to cope as well as helping the loved one.
Defining Aggressive Behavior
Aggressive behavior may come in the form of physical or verbal responses. A physical response might include: scratching, hair pulling, hitting, biting or pinching, whereas verbal aggression may manifest as shouting, swearing, making threats or screaming. It is possible that aggression may have been linked to a loved one's personality or behavior pattern prior to the development of dementia.
However, it is also true that some individuals who have never exhibited signs of aggression before may find this to be a serious problem after they have been recently diagnosed. Aggression, unfortunately, is only one of the common types of challenging behavior which can result from progressive dementia. Other behaviors might include aimlessly walking around, performing unnecessary tasks, being sexually inappropriate, restlessness, or general agitation.
What Are the Causes of Aggressive Behavior?
Individuals who have recently been diagnosed with dementia or who have been diagnosed with dementia in the recent past, may have many of the same needs as others, including stimulation, social interaction, comfort, being free from pain, and emotional well-being.
However, a person who has dementia may be unable to recognize these needs or understand how to meet them. Likewise, a family member with dementia may experience significant challenges in trying to explain to caregivers what they need. This might mean that they act out in ways that are seen as frustrated or confused, sometimes leading to increased levels of aggression. This might be a loved one's best attempt to getting this need addressed. For example, a person with dementia who is not receiving enough stimulation—or even the misperception of not receiving enough stimulation—may act out in order to receive some kind of a response from others.
There are three primary causes of aggression in individuals with most types of dementia. These are social, psychological, and biological.
Social triggers for aggression
Not trusting or liking a particular caregiver or unfamiliar person
Different caregivers have various approaches and may change the routine without knowing how it may affect the individual
Stubbornness from generally being told what to do
Boredom
Lack of social contact for long periods of time
Embarrassment or shame while trying to conceal their condition from others
Trying to go back to a home they no longer reside in
Psychological triggers that can cause aggressive behavior
Challenges of not being able to complete basic tasks
Mental health issues such as depression
Feeling threatened from an unfamiliar environment
Having difficulty interpreting and understanding the world around him or her
Feeling as though his or her rights or wishes are being violated or that they are being completely ignored
Biological triggers for aggressive behavior
Misunderstandings and misperceptions associated with difficulty hearing or seeing or because something is too loud or too bright
Hallucinations which confuse an individual enough to act aggressively
Loss of judgement and self-control due to the physical impacts of dementia
Taking too many medications or suffering side effects from multiple medications
Dealing with physical discomfort and pain as a result of the diagnosis
Thyroid problems
Vitamin deficiencies
Tips for Dealing with Aggressive Behavior
As is mentioned above, it is very important that all caregivers thoughtfully respond to this appropriately in order to help a person with dementia cope with the challenges he or she is already facing. It does not help the situation to respond in an aggressive manner, as this can challenge the individual's "fight or flight" reaction and make the situation worse.
Satisfying a Need
It is often necessary for caregivers to think about how they can change how they have approached the individual situation. Think about the needs of the person with dementia. Although it might not seem to make sense why they are acting the way they are, looking at things from their perspective can often open a caregiver's eyes and help an outsider realize that there are different ways to handle this situation as well.
Giving Space to Calm Down
Before reacting to aggressive behavior, whether it is physical or verbal, take a step back to give the person space and some time to decompress. A good idea is to leave the room until everyone has a chance to calm down. Attempt to not allow any immediate triggers to manifest including: anxiety, alarm, or fear. This can enhance a person's existing agitation. Likewise, do not initiate physical contact or shout as this could be perceived as further threatening behavior and escalate the situation from bad to worse.
Don't Take It Personally
Never take this behavior personally. The person is most likely acting out in his or her best attempt to communicate a need. This does not mean that he or she finds the caregiving inadequate. In many cases, there can be multiple competing reasons for why a loved one is acting out aggressively, but no one should take this as a personal attack.
Encouraging Communication When Possible
When everyone has had a chance to calm down, return to the situation, maintain eye contact, and make an attempt to explain why someone is needed onsite to help. Encouraging communication can help to break down barriers with an aggressive individual with dementia. Where possible, try to determine what is causing this behavior. Sometimes this is easier said than done because there could be multiple factors at play.
Bringing Attention Elsewhere
If the individual with dementia remains angry, try to distract attention away from the situation at hand. Determining what this individual needs in that particular moment can be critical for stopping the escalation of anger and frustration and giving both individuals the space and time everyone needed to recover.
What to Do After the Incident Happens
After a cooldown period, do not try to "punish" an individual for their behavior. Instead, it is in everyone's best interest to carry on as normally as able, and to remain reassuring and positive whenever possible—requiring patience, patience, and more patience. Focus on the individual, not the behavior that individual has most recently expressed. It is likely that the individual dementia will still be distressed and upset after the incident.
Caregivers may find that they need a safe space to discuss their own stress in handling difficult situations like this. A professional in-home caregiver, a family member, online discussion forums, or a counselor can be helpful. Avoiding the situation can actually make things worse, as caregivers become more likely to focus on the negative behavior of the individual and less on the person behind the behavior. Identifying a trigger may help to prevent further aggression-oriented events in the future.
For more advanced situations, professional caregivers may need to be brought in. A qualified and reputable care provider, for example, may have more experience working with persons who display aggressive behavior. For family caregivers, getting a break, or a "respite" from caregiving responsibilities and being able to decompress may be very necessary. It can be a difficult adjustment period for a family member who has suddenly become a full-time caregiver.
Ask the following questions when an incident happens:
What about the living situation is triggering frustration, boredom, or other emotional triggers?
Is the person in pain? If so, what kind of pain? What are they saying when asked about any painful symptoms?
Is the individual's behavior always causing the problem or does it involve the attitudes or reactions of other people?
When and where does this problem happen if it appears to be a pattern?
What To Do About Pain
Once all invested caregivers have identified the root cause, talk to the person and other individuals who help provide care in order to come up with a plan. Making changes in the individual's life can have a significant benefit to their behavior. One of the most important things to look for are signs that the individual could be in regular discomfort or pain. This includes:
A change in appetite
Being more restless
Running a temperature
Body language such as rocking or huddling
Facial expressions like clenching teeth or looking scared
Pulling out or rubbing a certain body part
New inflammations or swellings
Medical issues may be the cause of the person with dementia feeling uncomfortable and in pain and when you can recognize how these manifest on the person, then this can be reported to a physician in order to get appropriate help. Other activities may help to improve the situation and prevent further aggression, including social interaction and stimulation, communication, music, changes to the environment, and exercise such as going for walks. How caregivers react is just as important as the dementia patient's behavior. A family member or caregiver needs to remain calm, and should earnestly investigate the root cause of the situation in order to have the best possible impact on helping a person with dementia.
Caring Is Not Always Easy
Providing dementia care is definitely not easy—although they might be fully capable of showering you with love and kindness while having good moments. In fact, it may be the case that caregiving for dementia like this is more often fraught with difficulty and ongoing challenges.
Contact Caring Hands Matter For More Information
Over time, management will become easier as caregivers tend to become more resilient overall as they get used to the patterns and have practiced becoming adept at handling the situation in the moment.
However, it is not too late or too difficult to ask for professional caregiving assistance. If you are investigating the option of in-home care for a loved one, you can contact Caring Hands Matter by giving us a call or sending us a message online today. We will help you understand what services could be performed by professional in-home caregivers, and if it is right for your loved one at this time.