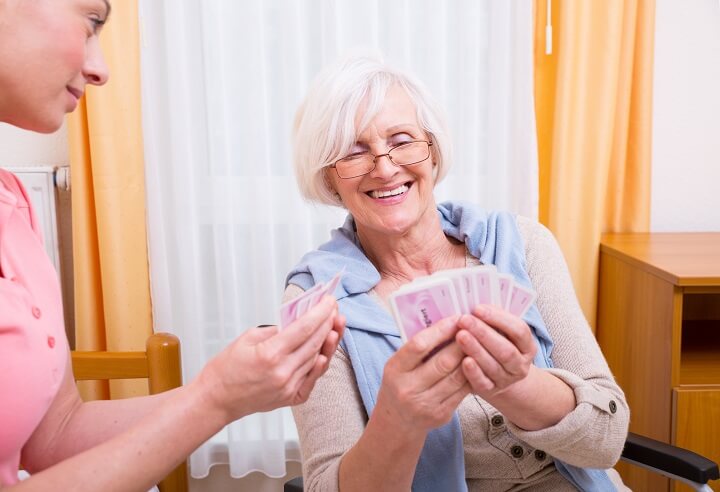 Facing Alzheimer's/Dementia can sometimes seem like a bleak reality. It's hard to reach inside the head of someone with cognitive impairment, especially for a child or another family member who remembers their relative quite differently. Activities that both of you used to enjoy often become impossible as dementia progresses. extended period of time and conversations seem to go in circles as you repeat the same information.
Mental disability can, in some ways, be harder to deal with than physical. We may accept that our bodies change, but most of us define ourselves in terms of our brains. It's hard to separate a person from the cognitive way they relate to the world. Yet it's important to remember that relatives with Alzheimer's or dementia still have the same emotional needs. Early Alzheimer's/dementia takes some adjustment.
Your loved one may need more help with some tasks than they used to, and they may have difficulty holding a thought in their head for a long period of time, but none of this means they have innately changed. It's very important to find new ways to share and build a relationship that works in this new context.
Communicating with Alzheimer's Patients
]Communication across these mental changes can take a good deal of patience and effort. We need to realize that the person really doesn't remember the information we just told them, not because they weren't paying attention or don't care, but because of the physical changes in their brain. This may require us to step away from the normal way we judge others and respond to their needs. Especially in the latter stages of Alzheimer's, reasoning can be an ineffectual way to solve a conflict. It's better to step away from the situation and try to shift a relative's attention to something positive.
Focusing on the things they remember and the parts of their brain that still function can be very therapeutic. People lose confidence when they are less capable and develop a low sense of their own self-worth. Depression can set in, and this makes cognition even worse. Effectively communicating with people who have dementia may not mean having a deep conversation. It often involves just simple day to day interaction. Finding an activity or a task that generates positive feelings is a good way to bridge the gap.
Home Activities
Simple, rewarding home activities can often be accomplished without a lot of tools or preparation. Don't expect one activity to take up several hours. Switching between a number of short activities can be a lot more effective. Here are some good activities to try at home:
Look at old photos.
Most people will remember old childhood photos long after they have forgotten other, more recent, parts of their lives. There's often a strong connection forged with these images. You may be surprised to find that your relative, who can't remember what day of the week it is or the information you just told time, can easily point out all the people in an old photo and tell you some of their history. This is because long term memory survives much longer in people with dementia.
Recite old rhymes or songs.
Capitalize on this in other ways. Your may find that your relative remembers old nursery rhymes and childhood poems. Reciting these familiar lines may be a fun way to pass part of an afternoon. If you put on an oldies radio station, you may find your relative can still sing along to many old songs. This is another fun activity that combines memory recall and music.
Ask them to teach you something.
If your relative knew how to knit or crochet ask them to teach you. It's likely that a muscle based memory like this will last a long time. Sharing their abilities will help them to feel more confident and you will learn a new skill
Do housework such as folding laundry.
Mundane tasks like laundry can actually be fun if you do them together. Your relative will feel more effective because they are taking care of their own needs, and you will be able to help them stay focused and make the task run smoothly.
Cook together.
Don't just prepare meals for your elderly relative; have them get involved and help in the process. It will help to maintain their skills and they will feel less dependent.
Crafts
Holiday crafts are always fun and this can help the person stay in touch with the seasons. Avoid anything too babyish however, especially with people only in the early stages of dementia. People with dementia may appear more childlike, but it's important to remember their age.
Play games.
There are many fun games depending on the person you are working with. Many older people love cards and may remember familiar games for quite some time. Board games like monopoly or even scrabble can be ideal for people that still have a high level of cognitive ability, and they are good mental stimulation. Trivial Pursuit can also be a good option. Many older people know a lot of answers, and this information may again be part of long term memories that stay intact longer. There are also some new games specifically focused on memory loss in seniors.
Outdoor Activities
Getting out of other house can be very important. Fresh air and a change of scenery can do a lot of good for someone with dementia. For people who don't have a chance to get out much, just leaving the house can feel like an excursion. Here are some ideas for ways to enjoy the great outdoors:
Walk around the neighborhood.
Simply going for a walk is a great activity. Depending on their level of cognitive function, it may not be safe for your relative to do this alone anymore. Walking briskly can be a good form of exercise. Positive exchanges with the neighbors can remind your relative they live in friendly, welcoming, environment.
Visit the local dog park.
Many elderly people love animals. Your relative may enjoy watching the dogs at the local dog park. If you talk to the owner's first, you may even be able to pet and interact with the dogs. This is good social interaction and you may make some new friends.
Animal petting
Animals have been proven to lower blood pressure and generate positive peaceful feelings, so any activity involving animals can be a good idea. Other options could be a pet store, the humane society, or, best of all, regular visits with trained, pet-therapy animals
Go to a park.
A park can be a great place to go for a walk with an elderly person suffering from dementia. There are lots of benches if your relative needs a rest, and many elderly people enjoy meeting and talking to children.
Have dinner.
Simply going out to dinner can feel like an outing. This is a normal social activity which many people start to miss out on once they have dementia.
Attend a spaghetti dinner or a bingo night at a local church.
If you can find appropriate group activities this is a great way for your relative to stay connected. Make sure the group is open and welcoming to people with this type of disability.
Attend an exercise class
This is a good way to mix exercise and social interaction. Try to find an exercise class that you and your relative both enjoy, so it feels like a shared activity. Water aerobics, dance, or yoga are all good options.
Home Care for People with Dementia
Don't feel like you are responsible. If you try to take care of all your relative's activities, you will likely become stressed and your loved one will feel like they are a burden. Sharing the load among several people is very important. Home care visits are a good way to make these kinds of activities a normal part of your loved one's life, without giving yourself more responsibility than you can handle.
Initiating home care visits at the very beginning of a dementia diagnosis is one of the best things you can do for your relative. Some elderly people are resistant, but home care visits are a way to be more independent rather than less. Home care agents can provide transportation and help to plan appropriate activities, as well as aid with housework, cooking, and personal care as it becomes necessary.
Contact Caring Hands Matter to Learn More
If you are interested in learning more about home care in Fairfax, VA, contact Caring Hands Matter to discuss the programs that are available. Depending on your relative's diagnosis you may receive some assistance from your insurance provider. Home care will increase your relative's quality of life, and make it possible for them to stay in their own home longer For more information, please call or contact Caring Hands Matter online today.